WASHINGTON — A former member of the Ohio National Guard, who investigators said went AWOL after President Joe Biden won the 2020 presidential election, was arrested by the FBI on Tuesday and charged with assaulting officers at the Capitol during the Jan. 6 attack.
Matthew Honigford, a 31-year-old from Delphos, Ohio, was arrested in his home state on Tuesday and faces three felony counts, including two counts of assaulting, resisting, or impeding certain officers and one count of civil disorder, along with several misdemeanors.
Video cited by the government shows the man identified as Honigford held a flagpole horizontally and pushed it into an officer after berating the officers on the west side of the Capitol, where some of the worst violence took place. One of the men standing alongside Honigford around the time of the assault — Taylor James Johnatakis — was convicted of multiple charges on Tuesday.
Honigford, investigators said in an FBI affidavit, previously "stopped attending drill weekends" after Biden's 2020 electoral victory over Donald Trump, with Honigford "stating that his sister was sick and he needed to be available to help her and that he did not trust the current state of the country following the election of Joe Biden as president." A witness said Honigford "was reported Absent Without Leave but permitted to remain in the Ohio Army National Guard until his Expiration Term of Service date on March 14, 2022."
Video viewed by NBC News shows the man identified as Honigford making sexually explicit comments about former House Speaker Nancy Pelosi as well as making comments about Pelosi's love of Jeni's ice cream and the cost of her freezer, the latter of which was a subject of a lot of attention from right-wing websites in 2020 after Pelosi appeared on The Late Late Show with James Cordon in Nov. 2020.
"They don't want to hang any of you," the man identified as Honigford told officers on video. "They want to hang these c–ksuckers inside this building, who scurried like cockroaches when we started to storm."
"You're going to be fighting for your life tonight," the man told officers. "If you keep this up, you will be fighting for your life this night."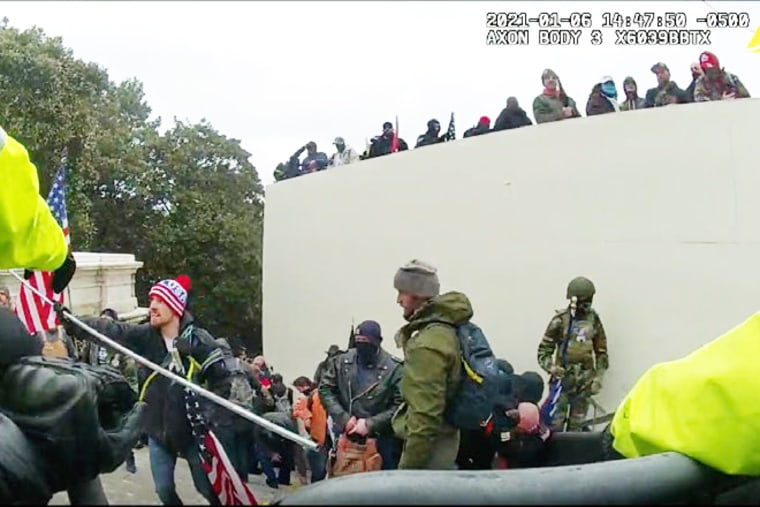 The man identified as Honigford, one video cited by the government shows, told officers he wanted to pray for them before, seconds later, attacking the police line. The FBI said Honigford "squatted and grabbed the middle rack section of the barrier with his right hand, appearing to gain a stronger grip on the barrier" and then "used his body to push the barriers against the law enforcement line." He soon kicked a metal barrier towards an officer and then "instructed other rioters to 'pull it down' and carried one of the barriers into the crowd away from law enforcement," according to the FBI.
"Guys there's a million people here!" he said in one video, wildly overestimating the size of the crowd on Jan. 6. "A million!" 
"This is the fall of your country, and you're going to stop us?" the man identified as Honigford said in another video reviewed by NBC News.
Another National Guardsman, Gregory Yetman, set off an FBI manhunt after he fled when law enforcement showed up to his home earlier this month. He surrendered after about 48 hours.
More than 1,200 people have been charged in connection with the Jan. 6 attack on the Capitol, and more than 400 have been sentenced to periods of incarceration.
Source link