If you're spinning your wheels over what to cook for Mother's Day brunch this year, consider a savory quiche.
Quiche is fairly easy to make yet elevated, versatile and filling. It's also tasty. 
Below are two ideas courtesy of Grace Vallo, creator of food blog TastefullyGrace.com and Casandra Carrick, owner of LooksDelic.com.
UNIQUE COOKING AND KITCHEN SECRETS FROM MOMS IN HONOR OF MOTHER'S DAY
"Regular quiche is delicious, but cheesy quiche is perfection!" Vallo of Boston, Massachusetts, tells Fox News Digital.
"This quiche has extra cheese, lots of fresh spinach, and finely chopped shallots. It's easy to make ahead and reheat for Mother's Day so you can spend more time with mom the day-of," she continues, adding that you can serve this dish with a quick side salad, breakfast sausage, bacon or potatoes or other brunch favorites.
For this recipe to come out just right, Vallo notes to make sure your store-bought pie crust is savory, with little to no sugar added. 
MOTHER'S DAY 2022: THE BEST ONE-LINERS AND LIFE ADVICE I'VE EVER GOTTEN FROM MOM
She also advises to drizzle your egg/cream mixture very slowly, in a spiral motion throughout your quiche. 
"If you pour too quickly, the mixture won't have time to absorb into the quiche and it will spill over," she says.
Cheesy Quiche by Grace Vallo of TastefullyGrace.com
Makes: 6 servings
Prep Time: 25 minutes
Cook Time: 1 hour 30 minutes
Ingredients:
9″ store-bought pie crust
2 ½ cups fresh spinach, packed
1 ¾ cup grated Emmentaler or Jarlsberg cheese, packed
1 cup grated Parmigiano-Reggiano or Parmesan cheese, packed
1 cup heavy cream
3 medium shallots, finely chopped
1 tablespoon extra virgin olive oil
Salt to taste
Pinch of freshly ground nutmeg, optional
Handful of snipped chives, optional
COZY MOTHER'S DAY GIFTS FOR 2023: FLUFFY ROBES TO SCENTED CANDLES AND MORE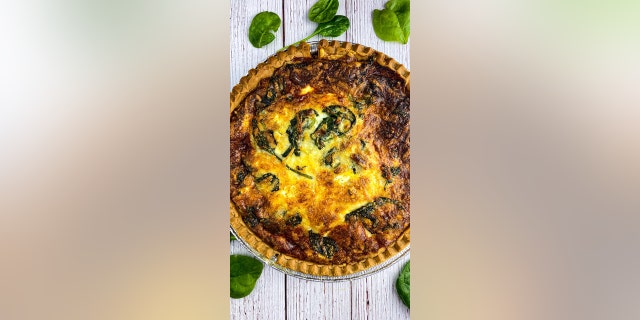 Instructions: 
1. Bake the crust two-to-three minutes less than recommended on pie crust packaging (usually 10-15 minutes). Set aside.
2. In a medium pot, add olive oil, shallot, and then spinach. Over medium heat, sauté mixture for four-to-five minutes until spinach just wilts.
3. With a slotted spoon, transfer mixture to a cutting board lined with a triple layer of paper towels. Use paper towels to squeeze liquid out of the spinach mixture. Roughly chop mixture into bite-sized pieces. Let cool to room temperature. Pop in the fridge for faster cooling.
4. Mix grated cheeses together. Add spinach mixture to cheese mixture and toss. Add spinach/cheese mixture to pie crust in an even layer.
5. Whisk together heavy cream, eggs, and a pinch of salt. Drizzle your egg/cream mixture very slowly, in a spiral motion, throughout your quiche. If you pour too quickly, the mixture won't have time to absorb into the quiche and it will spill over the edge.
6. Top quiche with a dusting of freshly ground nutmeg or a handful of snipped chives.
7. Bake quiche at 350 °F, uncovered for 30 minutes. Then loosely cover your quiche with foil and bake for an additional 45 minutes, or until quiche is deep golden brown and the egg mixture is set. The total baking time is 1 hour and 15 minutes. Let quiche rest for 10 minutes before slicing.
This original recipe is owned by tastefullygrace.com and was shared with Fox News Digital.
MOTHER'S DAY GIFT IDEA: ETERNAL ROSES AND KEEPSAKE BOUQUETS
For a second Mother's Day quiche option, you arguably can't go wrong with incorporating bacon in, well, anything. In this quiche recipe from Carrick listed below, the brunch staple shines. 
"Zucchini and bacon quiche is great for Mother's Day because it's a light dish with springtime flavors and colors," says Carrick of New York. "It pairs perfectly with fruit or salad to round out the perfect brunch or lunch menu."
MOTHER'S DAY GIFTS THAT LAST LONGER THAN FLOWERS OR CHOCOLATE
As Carrick highlights, quiche can be prepared ahead of time so try to assemble your quiche early. "This allows for ample time to clean up the kitchen which mom will appreciate," she says. "Then, bake your quiche fresh by putting it in the oven one hour before meal time."
Savory Quiche with Zucchini and Bacon by Casandra Carrick of LooksDelic.com
Yield: 2 servings
Prep Time: 15 minutes
Cook Time: 1 hour
Ingredients:
1 shallot
½ tsp dried thyme
6 eggs 3 whole, 3 just the whites
½ cup milk
2 pieces cooked bacon crumbled
¼ cup shredded mozzarella cheese
½ tsp salt
¼ tsp pepper
1 frozen deep dish pie crust
CLICK HERE TO GET THE FOX NEWS APP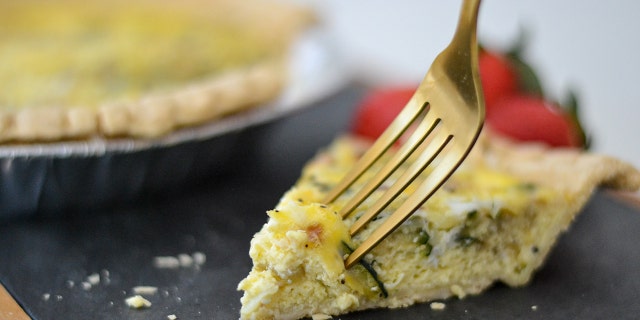 Instructions:
1. Preheat oven to 375 °F. Then heat 1 tablespoon of olive oil over medium heat in a small skillet.
2. Using a mandoline slicer, slice the zucchini and then the shallot into the hot pan. Sauté the vegetables until soft, about 5 minutes, stirring occasionally so they don't brown too much.
3. Season the zucchini and shallot with dried thyme. Remove from heat and set aside.
4. In a mixing bowl combine eggs, milk, bacon, shredded mozzarella, salt and pepper.
5. Spread the zucchini mixture evenly across the bottom of the pie crust. Then pour over the egg mixture.
6. Bake in the oven for 1 hour or until the center of the quiche is set.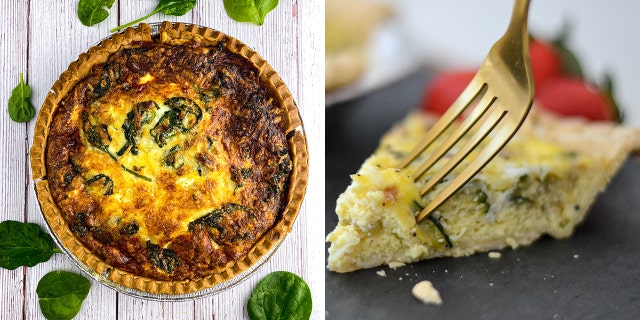 CLICK HERE TO SIGN UP FOR OUR LIFESTYLE NEWSLETTER 
This original recipe is owned by looksdelic.com and was shared with Fox News Digital. 
Source link